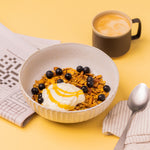 OUR PASSION
At Something to Crow About, we're passionate about good food that's nutritious and delicious.  Bringing together unexpected flavours, gourmet ingredients, and an abundance of plant-based ingredients, to create breakfast and snacking products which are better-for-you, and cleverly crafted to delight your tastebuds. Who says healthy food can't taste amazing?!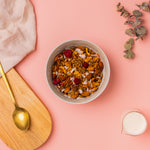 SOURCED WITH CARE
NATURAL INGREDIENTS
Our products are a blend of carefully sourced,  quality ingredients from New Zealand and around the globe. Nutritious nuts and seeds are the heros in our food, with spices, natural sweeteners and tangy fruits to pack a punch of flavour.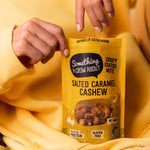 REDUCE RE-USE RECYCLE
SUSTAINABILITY
We have teamed up  Soft Plastics Recycling to manage our waste.
We continue to review our packaging options to look for sustainable solutions that work for customers and the environment.